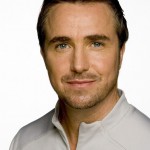 The 2015 Stargate Multiverse Track Don S. Davis charity auction at Dragon Con will be emceed by actor Paul McGillion. Best known by Stargate fans for his role in Stargate Atlantis, McGillion also portrayed the character of young Ernest Littlefield. This is not the first time McGillion has served in this role for the Don S. Davis charity auction. He has emceed the auction multiple times, the last of which in 2010 raised over $30,000.
The Don S. Davis charity auction is held every year at Dragon Con, and is put on by the Stargate Multiverse Track. Volunteers run the tract, and all auctioned items are donated by fans. In the past there have been many rare collectables auctioned off, including props and costumes from the shows.
For more information visit the Multiverse on Facebook.