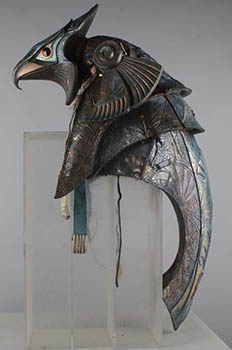 Various pieces of set decoration, props, wardrobe, and continuity photographs are being auctioned off by Morphy Auctions on August 2nd 2015. Many of the set decoration pieces were featured in Stargate Universe, however there are items from all three Stargate TV shows. In total there are 70 lots of Stargate related items which will be auctioned off, and many of those lots include multiple items. The continuity photo lots are being sold in bulk with over 1,000 photos in some of the lots.
Included from SG1 is an original Horus head made of a rubber foam material estimated by the auction house to sell for between $200 – $500.
For Stargate Atlantis, there are boxes of continuity photos and crew clothing.
Stargate Universe features the largest presence in the auction, with many large pieces of set decoration including the fan favorite oil lamp style lighting featured on the show.
Fans who wish to purchase any of the items will need to preregister for the auction.
Read the press release online, or browse through the Stargate items now on eBay.