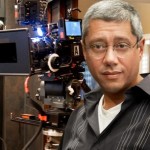 In a recent interview with the Portland Business Journal producer Dean Devlin discusses the new Stargate movie trilogy, and his reasons for rebooting the franchise instead of simply making Stargate "2" and "3". He points out that the original Stargate movie was successful beyond what the financial backers expected. To ensure they could get a return on their investment they quickly sold the rights to MGM before the movie had a chance to succeed or fail. Devlin says:
Of all the projects I've ever done, "Stargate" is the only one from the beginning intended to be a trilogy. We always wanted to do parts two and three, but the thinking was they didn't want to do anything other than the TV series. So literally for 20 years I've been chasing this project. Twenty years later, we can't really do part two. We have to start over from the beginning. So let's reboot the series, put in all the things we couldn't the first time, and set it up properly.
With the shows having been off the air for several years Devlin will now have his chance to start over. With a potential commitment for 3 movies—compared to the continuous threats of cancellations during the TV years—the Stargate franchise has never looked healthier.
Read more at bizjournals.com